Cosmetic Dentistry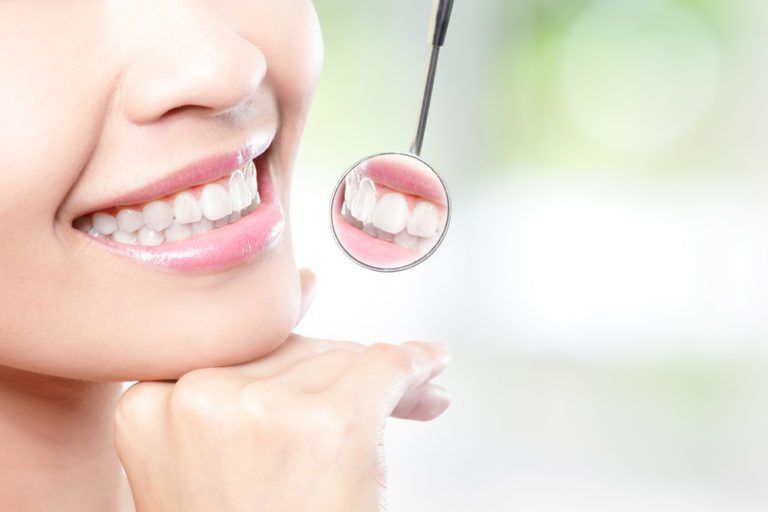 Cosmetic dentistry is the art of rendering the perfect smile. The primary goal of cosmetic dentistry is to enhance your teeth in terms of color, shape, and alignment to create a smile that is both functional and aesthetically pleasing. At Legacy Dental, our team of skilled dentists strive to provide our patients will several treatment options all aimed at giving you the perfect smile!
Did You Know?
Smiling is not only pleasant you and those around you, but it has actually been found to have health benefits as well. Recent studies have shown that smiling frequently can add about seven years to your lifespan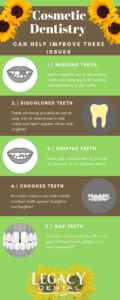 Frequently Asked Questions:
Am I a candidate for cosmetic dentistry?
If you have discolored, broken, crooked, decayed, or missing teeth and would like to restore functionality and aesthetics to your smile, then you may be a candidate for cosmetic dentistry. With so many cosmetic dental treatment options available, you should be able to find the right treatment to achieve your cosmetic dental goals.
In addition to restoring your function and increasing your aesthetic appeal, cosmetic dentistry also benefits your oral health. Depending on the type of cosmetic dental treatment you decide on, your teeth may become stronger, more resistant to stains and decay, and easier to keep clean. Some cosmetic dental treatments even prevent your teeth from being lost, as well as strengthen the bones in your jaw.
To find out if you are a candidate for cosmetic dental treatments and which treatment is right for you, schedule a consultation with our team at Legacy Dental today!
What cosmetic dental procedures does Legacy Dental offer?
Legacy Dental offers a variety of cosmetic dental treatments including:
What can I expect from cosmetic dental treatment?
The type of cosmetic dental treatment you decide on will determine what types of expectations you should have. Each of our cosmetic dental treatments has a specific method used to achieve results, and some are quicker and easier than others. During your consultation, we will discuss your cosmetic dental goals and the best treatment or treatments to achieve these goals, then we will go over the expectations for the treatment.
Do I need to follow any special instructions after receiving cosmetic dental treatment?
Your post treatment care will also depend upon the type of cosmetic dental treatment you decide on. After your treatment, our dentists will provide you with specialized post treatment instructions. It is very important that these instructions are followed diligently to have the fastest recovery time.
Can I afford cosmetic dental treatments?
Contrary to popular belief, cosmetic dental treatments are not as expensive as you might think. Most people are pleasantly surprised to find that they can, in fact, afford cosmetic dental care. Since there are so many different options available, you should be able to find something that works within your budget. Also, Legacy Dental offers payment plans to help ease any financial burden.
How long do the results from cosmetic dentistry last?
With the exception of teeth cleaning, most cosmetic dental treatments utilize some type of restoration material. How long this material lasts depends on a number of factors including: the type of material and treatment used, the location it was initially placed, how extensive the restoration was, and how well you take care of the restoration. If well cared for, most restorations can last for several years, and some can even last up to 20 years! To ensure you get the longest results from your cosmetic dental treatment, be sure to practice good oral hygiene, brush twice daily, floss once daily, and visit Legacy Dental for a dental checkup and cleaning at least once every six months.
From routine dental cleanings to the most complex restorative dental care, Legacy Dental offers exceptional and compassionate dental care. Schedule a consultation today with one of Kansas City's top dental offices!