General Dentistry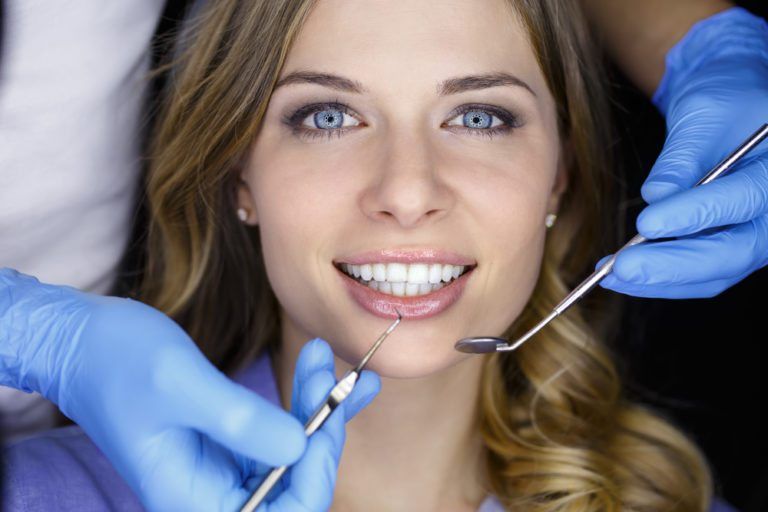 General dentistry is the name given to the practice of preventing, identifying, diagnosing, and treating detrimental health issues pertaining the the teeth, mouth, or surrounding facial structures. The priority of general dentistry is to promote oral health and proper education in order to prevent oral health issue from ever happening. However when issues do arise, general dentists are then able to treat these issues using various restoration methods. At Legacy Dental, your oral health is our specialty and we aim to help you prevent as many issues as possible. When that is not possible, our general dentists also offer a variety of restoration services to effectively treat a number of dental issues.

Did You Know?

There is historical evidence to support the notion that oral hygiene has been in practice for thousands of years. It has been found that humans would chew on tree bark or frayed wooden sticks in order to keep their teeth clean. It has also been found that the ancient Egyptians even made a mildly abrasive toothpaste-like substance composed of smashed eggshells and oxen hooves to remove plaque from their teeth.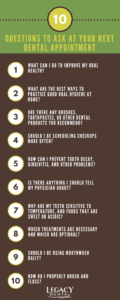 Frequently Asked Questions:
Do I need general dental care?
Yes. In order to maintain your oral health, it is essential to receive general dental care. Many people avoid the dentist until they are experiencing pain or discomfort, which usually signals a dental issue has already escalated. By receiving regular dental care, our dentists at Legacy Dental will be able to detect and treat issues before they have a chance to evolve into more severe issues.
How often should I visit Legacy Dental for a checkup and cleaning?
In order to get the most benefits from general dental care it is recommended to visit Legacy Dental at least once every six months for a check up and dental cleaning. This allows our dentists to keep a close eye on your oral health in order to detect and resolve any possible issues.
Is there anything I can do to prepare for my appointment at Legacy Dental?
Yes. If it is your first time coming to our office, you will want to fill out these forms and bring them to your appointment. You will also want to look up directions ahead of time and aim to arrive at our office 10-15 minutes early to avoid the stress of being late. Finally, for new and returning patients, you will want to make a list of questions to ask our dentists during your appointment.
What can I expect from general dental care?
As mentioned before, the majority of general dental care is focused on preventative measures. This means that most general dental care begins with your dental checkup. At your dental checkup, our dentists will perform an oral examination, take x-rays, and discuss your oral health with you. After your appointment, you will also receive a teeth cleaning.
Sometimes, restorative treatments are also a part of general dental care. These can include things like root canals, crowns, and fillings, among others. If our dentists think you need restorative treatment, they will explain the treatment expectations with you and answer any questions you may have.
What can I expect after general dental care?
After your dental checkup, you will need to schedule your next checkup before leaving. If you have received restorative treatment, our dentists may provide you with special post treatment instructions. It is important to follow these instructions for the best outcome. Regardless of the type of treatment you received, you will want to continue your oral hygiene routine of brushing twice daily and flossing once a day.
Is general dental care expensive?
Preventative general dental care is more affordable than restorative general dental care, however the cost of restorative care depends on the type and severity of restoration method being used. If you have dental insurance, many plans offer coverage for preventive services and some may even offer partial coverage on certain restorative procedures. Our office also offers payment plans to allow you to get care in a timely manner.
From routine dental cleanings to the most complex restorative dental care, Legacy Dental offers exceptional and compassionate dental care. Schedule a consultation today with one of Kansas City's top dental offices!