Dental Implants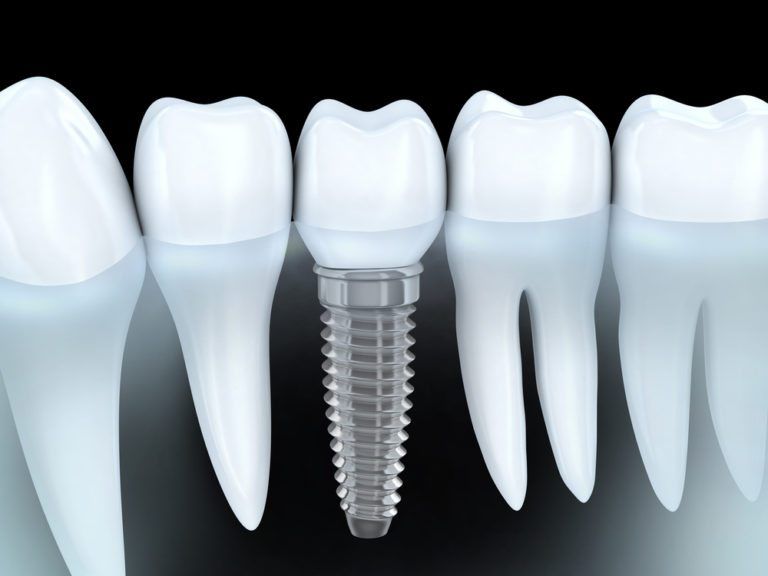 Dental Implants are one of the most effective restorative methods for patients who are looking to rejuvenate their smiles. They provide patients with an artificial tooth root that is fused to the jaw bone and can support a crown, denture, or other permanent tooth prosthetic to restore both function and aesthetic appeal. The final result is a long-lasting natural looking smile with full functionality.
Did You Know?
The concept of dental implants has been around since 600 AD. A Mayan woman from that time period was found with tooth-shaped shell pieces hammered into her jaw. However it wasn't until 1951 when the American Academy of Implant Dentistry was founded that the advancement of implant dentistry began to accelerate in the dental world. Nowadays, this process has become a popular restorative dental treatment.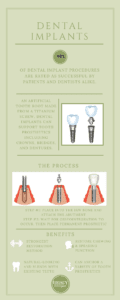 Frequently Asked Questions:
Am I a candidate for dental implants?
If you have cracked, chipped, or missing teeth, then you may be a candidate for dental implants. You may also be a candidate if you need a bridge replacement or if you are experiencing problems with your dentures slipping, clicking, or preventing you from eating certain foods, and are looking for a more permanent, long-term option. To find out for sure if dental implants are the right treatment option for you, schedule a consultation with Legacy Dental today!
What can I expect from dental implant treatment?
Prior to your dental implant treatment, our dentists will schedule an initial consultation where they will examine your mouth, take x-rays, and discuss your treatment plan. At your next appointment, our dentists will place your dental implant. During this procedure, you will be placed under local or general anesthesia, and our dentists will make a small incision in your gums to access your jaw bone and place the implant. During your recovery, you may experience some swelling, minor bleeding, and pain, however this can be remedied with over the counter pain medications and will fade after surgery.
Once your implant has been placed, it will undergo a process called osseointegration where it will fuse with the jawbone. This process generally takes about 3-6 months. After this process is complete, our dentists will take an impression of your mouth to begin fabrication for your final prosthetic. Once your prosthetic is completed, it will be mounted to your dental implant.
What can I expect after dental implant treatment?
After dental implant treatment, you will want to visit Legacy Dental for any follow up appointments to ensure you're healing properly. You will also want to make sure to practice good oral habits including brushing twice daily, flossing once daily, and scheduling your dental checkups at least twice a year.
Are dental implants expensive?
Dental implants can have a higher initial cost than other restoration methods, however they do not need to be replaced as frequently so they will save you money in the long run. The actual cost of your treatment will depend on your treatment plan. Some dental insurances may offer partial coverage on dental implants and Legacy Dental offers payment plans to help you fund your care.
From routine dental cleanings to the most complex restorative dental care, Legacy Dental offers exceptional and compassionate dental care. Schedule a consultation today with one of Kansas City's top dental offices!